Industry experts confer honours on 21Vianet Group for running China's outstanding data centre provider
The leading-edge Beijing M6 Data Center owned and run by 21Vianet Group, DYXnet Group's parent company, scooped coveted "2016 China's Outstanding Data Center" honours at the 2017 Beijing Data Center Facility Forum, thanks to its professional data center construction whose design combines energy efficiency with flexible expansion, fully utilizing hybrid IT solution to increase resource utilization rate, simplify project management process and lower the operating costs.
A panel of industry expert judges assembled by the Data Center Operation Work Team of Internet Society of China singled out 21Vianet Group after considering entries from 10 major cities throughout mainland China. The accolade represents the highest level of recognition for innovation, industry leadership and originality in China's data center industry.
Judges were impressed by M6's environment-friendly design, which combines energy efficiency with flexibility to expand. The facility runs a hybrid cloud platform to optimize utilization of resources, simplify project management and reduce operating costs. Infrastructure at the centre meets T3+ requirements and features high voltage DC distribution, as well as integration of new and traditional technologies, to the benefit of customers with a diversity of unique needs.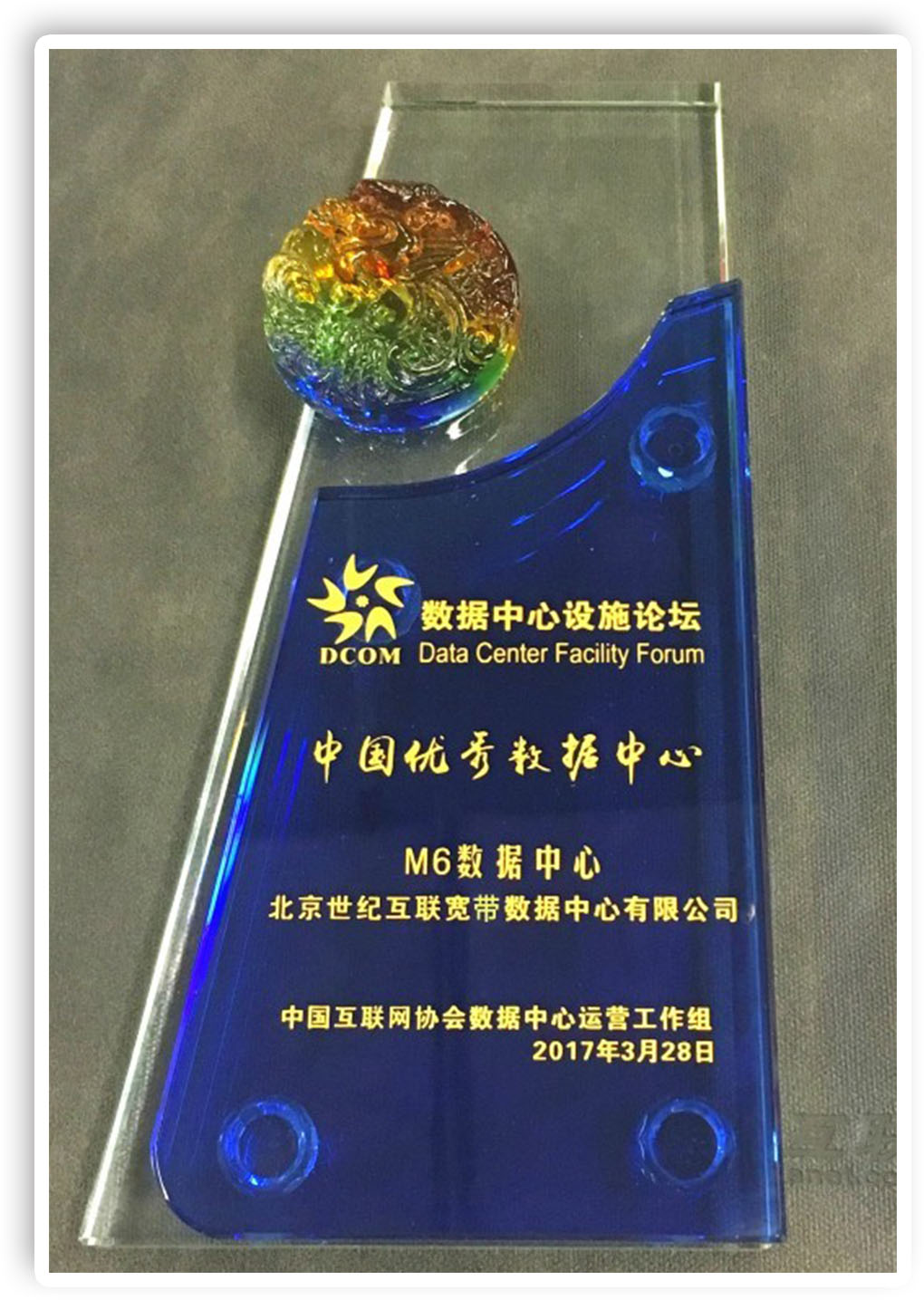 21Vianet's Beijing M6 Data scoops "2016 China's Outstanding Data Centre" honours.
Combining hybrid IT with traditional technologies, 21Vianet Group's Beijing M6 Data Center provides customers with customized services based on their needs. In fact, the Group has earned a solid track record for helping customers lower their operating costs, while achieving business agility and the capacity to scale their IT needs up or down in step with demand. Its pursuit of excellent product quality and technology helps the Group to build a good reputation in the industry and wins over customers, creating more values for the Group in the future.
After accepting the award at a special presentation ceremony, 21Vianet Group Deputy General Manager Yimin Wang delivered an inspirational speech on the symbiotic relationship between cloud technologies and the data centre concept. He illustrated his address by outlining examples from cloud service providers, block chain projects and the transport industry.
In light of the continuous popularity of big data, cloud computing and Internet of Things, the Group has been swift to explore opportunities posed by the PRC Government's "One Belt, One Road" economic strategy. This gave rise to an infrastructure policy based on data centre services that offer high-availability, flexibility and energy-efficient advantages. All this not only achieves the compatibility between data centers and the subsystems, but also lowers the difficulty of future expansion and brings greater connections between data centers. As an important network node, the data centers are directly connected to carriers' backbone networks and equipped with high network level and network quality, minimizing network delays and jitters while boosting its reliability and security.
Pursuing a cloud-neutral philosophy, 21Vianet Group helps enterprises migrate traditional IT infrastructure to the cloud. All the necessary infrastructure and expertise is provided in a managed environment able to provide public, private and hybrid cloud services according to rapidly-changing business needs. The Group offers an overall diversified solution, from a single product to an infrastructure, for customers with a full range of products and technical supports that maximize the reliability, usability, energy-efficiency and controllability of a data center, creating new concepts and methods for the value-added services of data centers.
21Vianet Group has been providing data centre services since 1996 in order to bring customers industry-leading data center services, neutral cloud operations, as well as neutral hybrid IT and CDN services. And today the Group runs more than 80 facilities– including 49 Group-built data centres – containing some 26,000 racks throughout China.