50+ employees and their families raise cash for needy children in the "HOPE worldwide Great Santa Night Run" sponsored by DYXnet Group
Our keen sense of social responsibility as a sound corporate citizen in Hong Kong came to the fore once again when DYXnet Group took on title sponsorship of the HOPE worldwide Great Santa Night Run 2017.
Some 1,500 runners dressed as Santa Claus and took part in a gruelling footslog at the Hong Kong Science and Technology Park (HKSTP) last Saturday, with a view to raising HK$300,000 for underprivileged children in Sham Shui Po and Tin Shui Wai districts.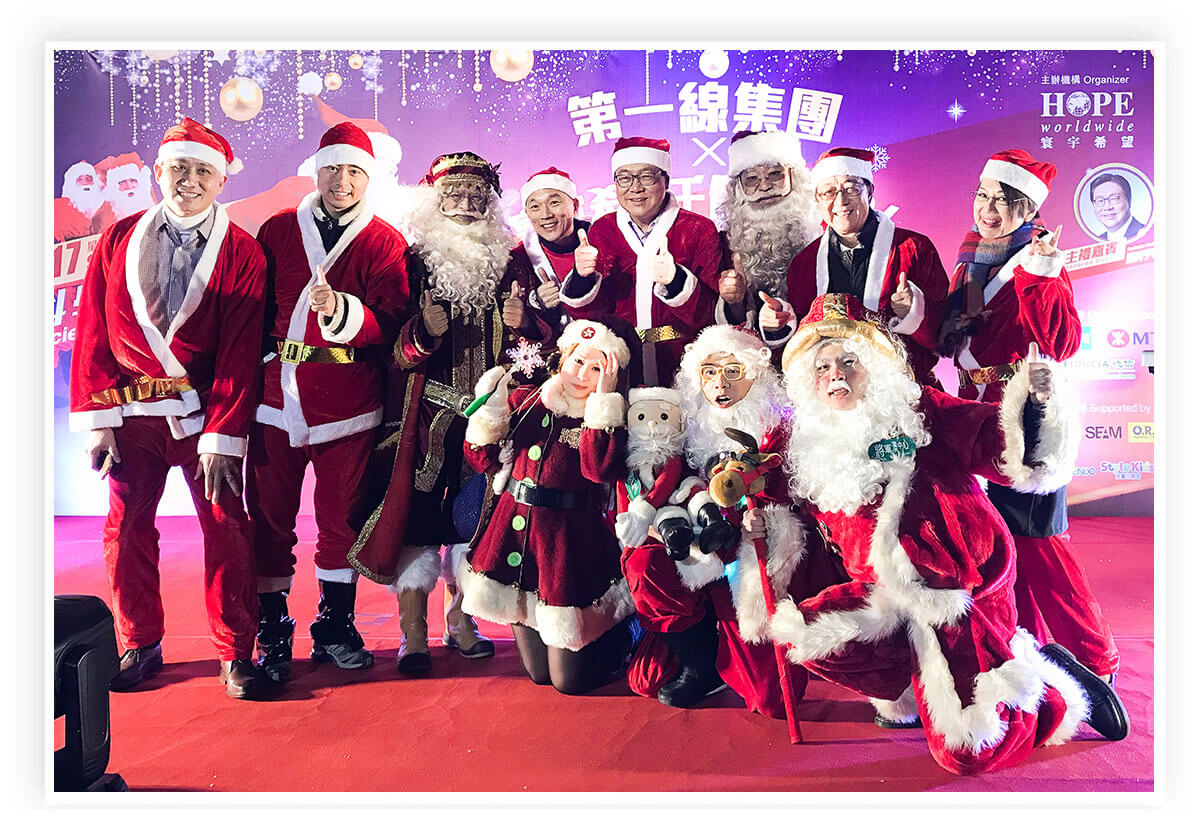 Founder and CEO Lap Man (second from left) poses for the camera with guests.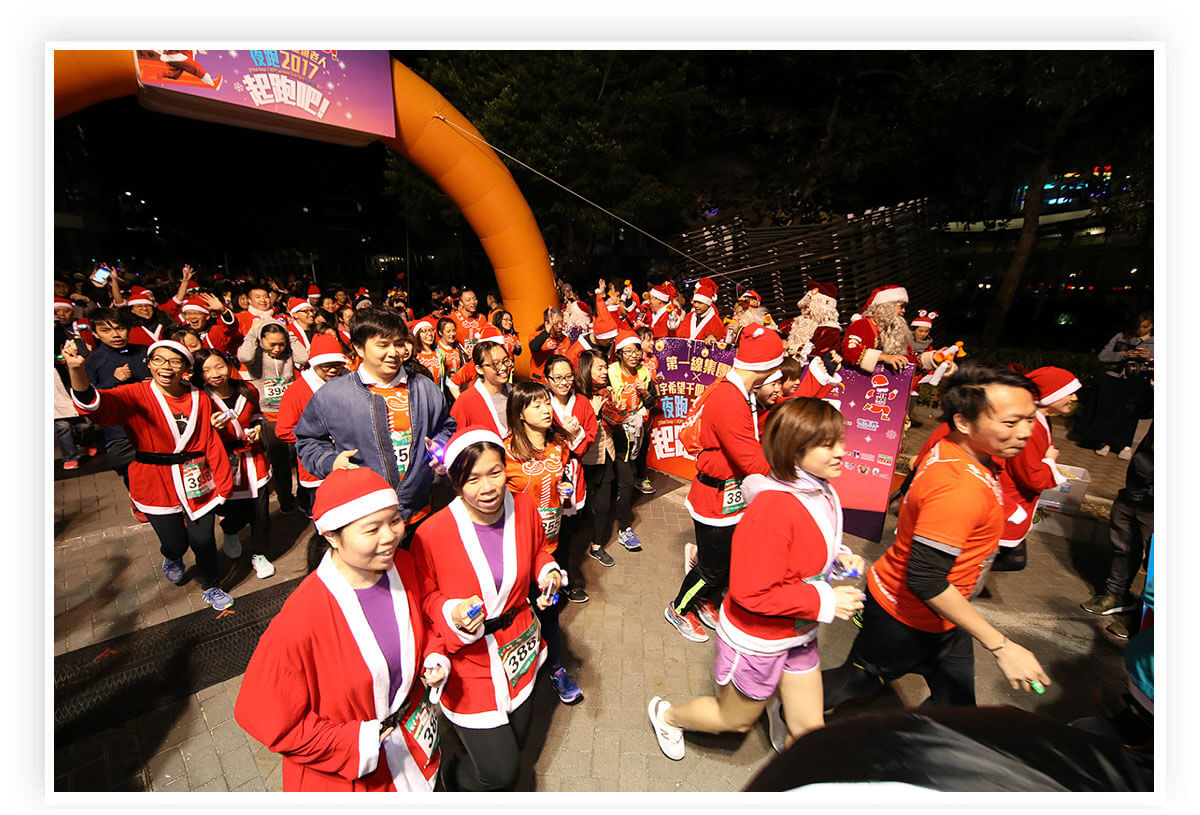 A record-breaking 1,500 runners dressed as Santa throw their weight behind raising funds for underprivileged children.
Dubbed the "DYXnet Group x HOPE worldwide Great Santa Night Run 2017", the event was organised by HOPE worldwide, an international charity that harnesses compassion to deliver high-impact services to the poor and needy.
More than 50 DYXnet Group employees and their families wore specially-designed Santa outfits to compete for the DYXnet Group Charity Cup, or acted in a support capacity to cheer on our runners, who were able to choose from the "8km Individual", "3km Family Run", "3km Buddy Run" or "1km Christmas Fun Walk" races.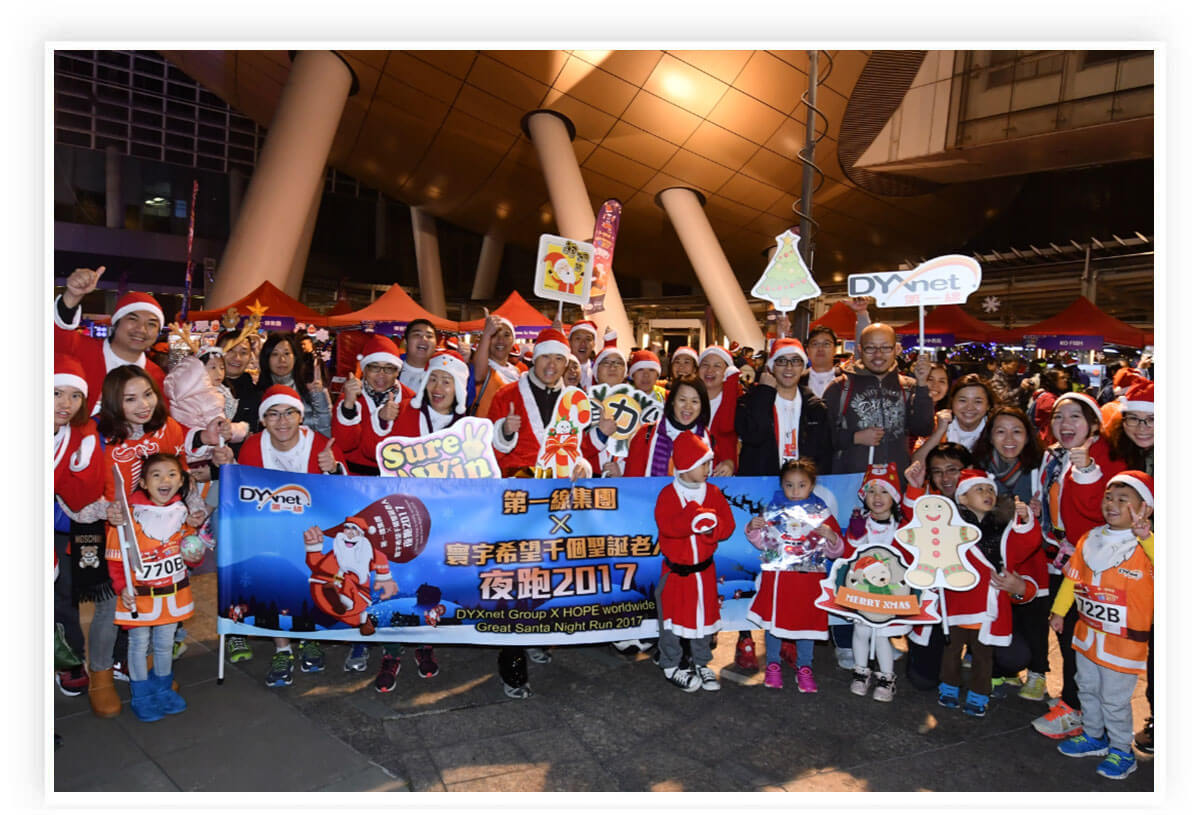 More than 50 DYXnet Group employees and their families demonstrated both team and festive spirit.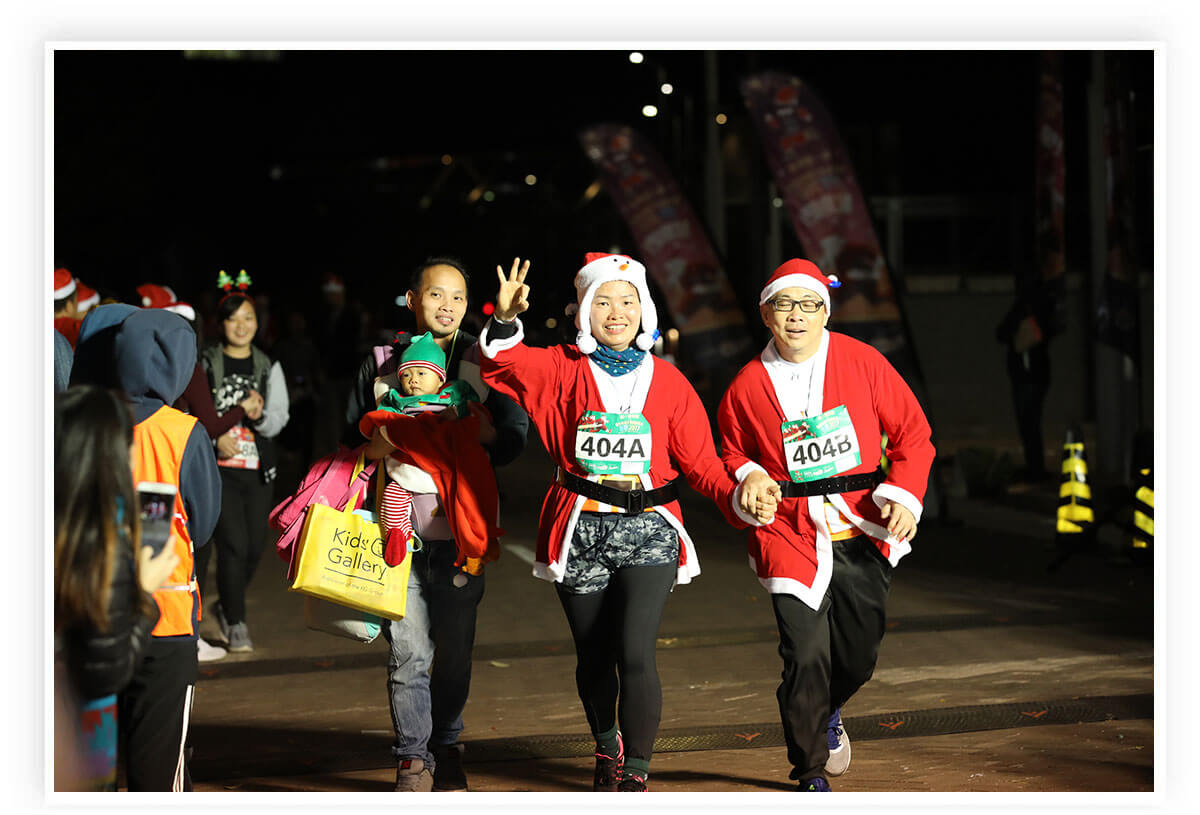 DYXnet Group runners braved the cold weather and smiled with determination to support a worthy cause.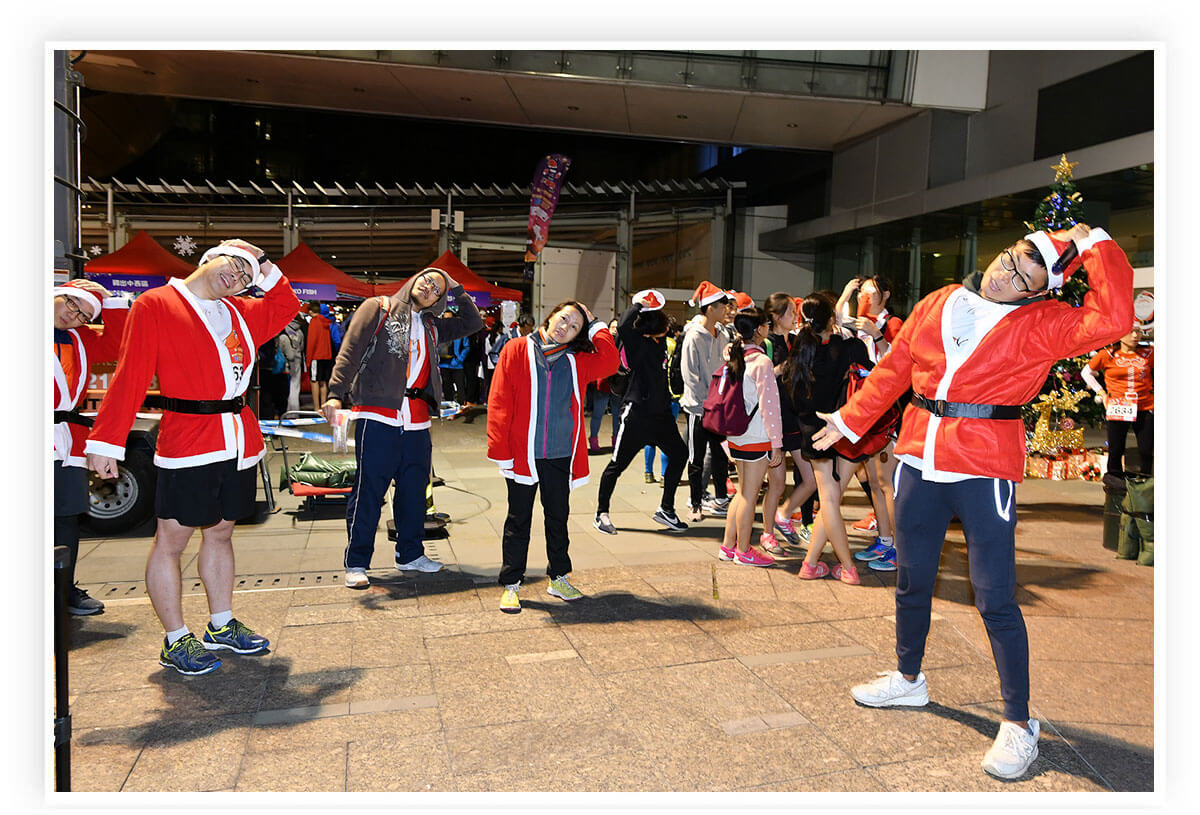 Coach Eli Wong (far right) led warm-up exercises before our runners plunged into the race.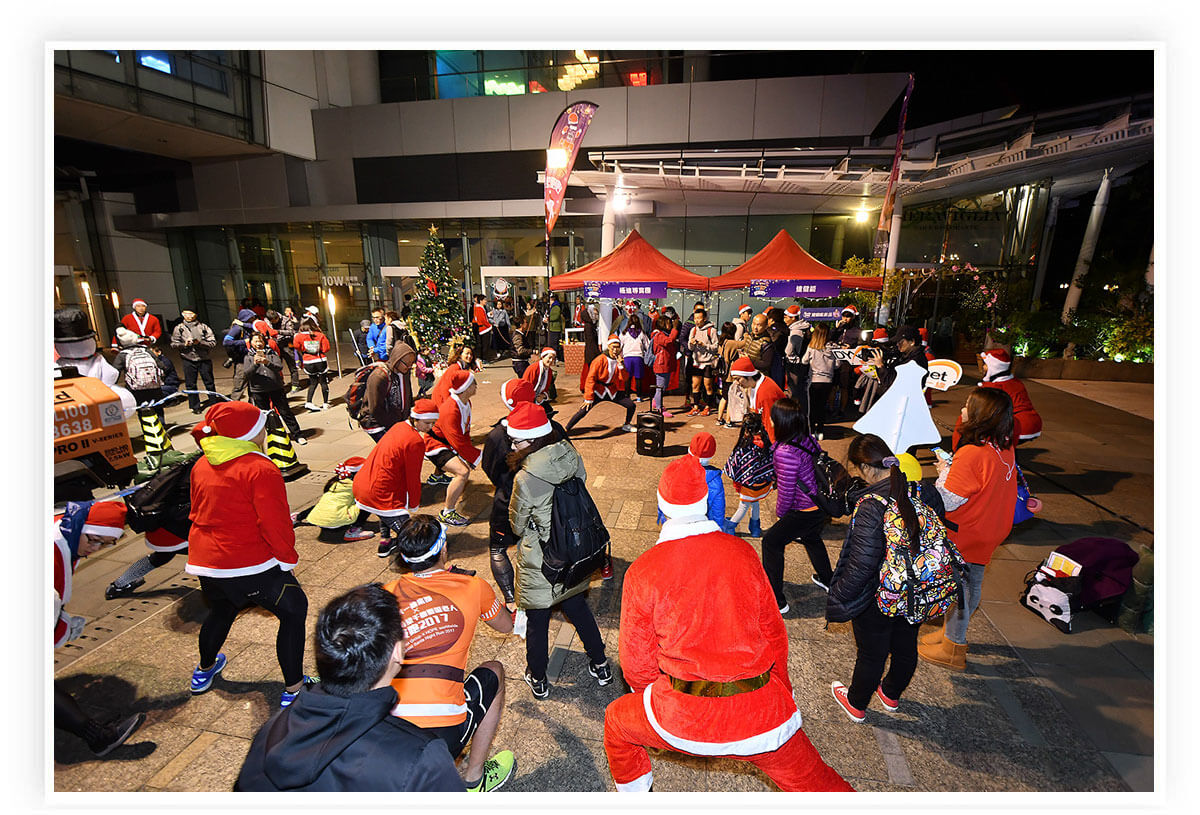 Everyone saw the benefit of warming up before the race started.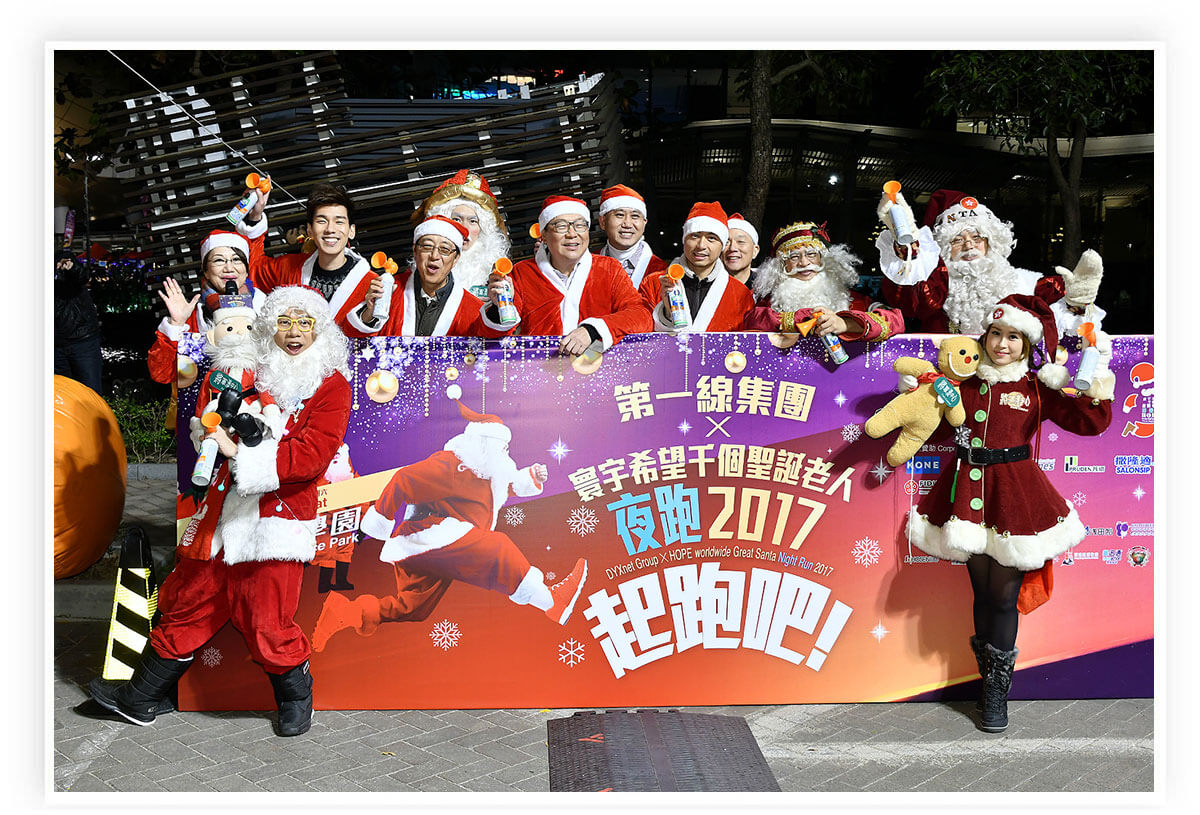 Lap Man (front row, third from right) fired the starting gun and delivered a speech alongside MTR Corporation Chairman Professor Frederick Ma Si-hang (front row, fourth from left), celebrated local artist and event ambassador Phil Lam (front row, second from left) and HOPE worldwide (HK) ambassador Cheung Man-sun (front row, third from left).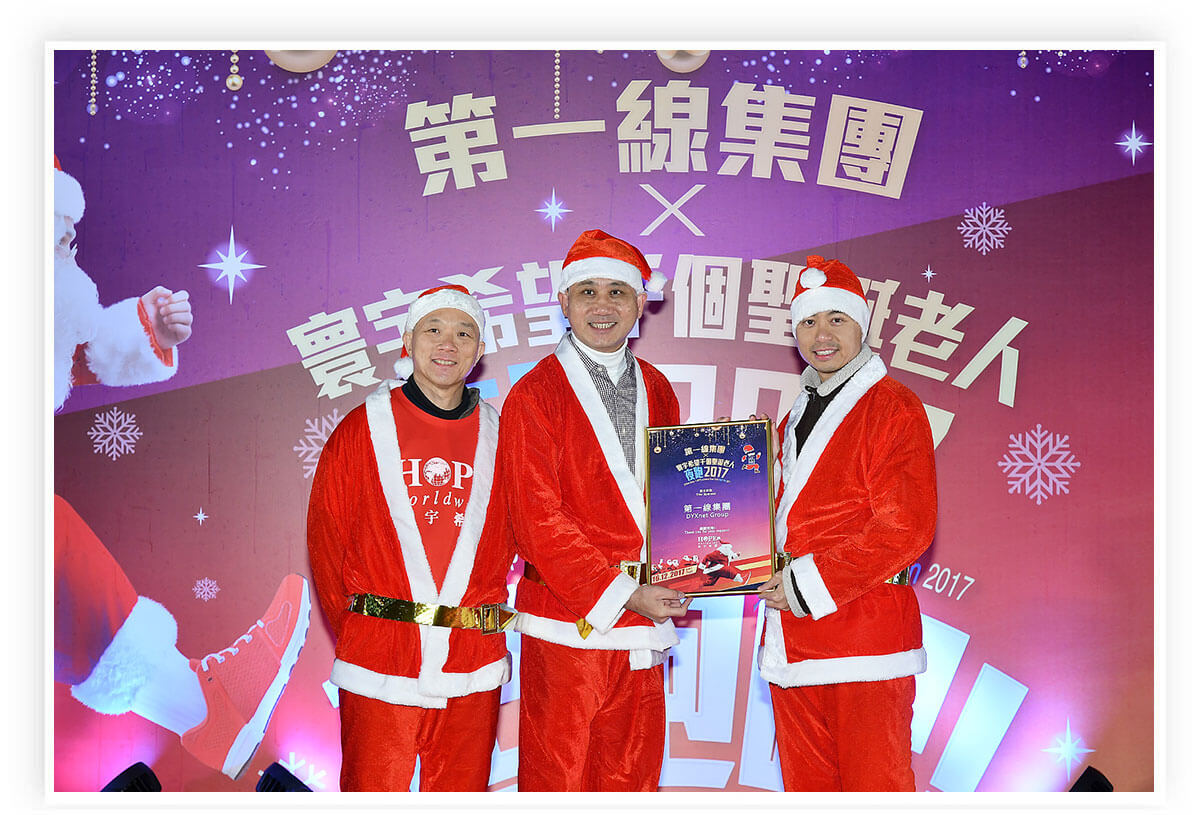 Lap Man received a certificate of recognition from HOPE worldwide representatives Liu Te-hwa Daniel, Country Director (China) on the left and Wong Kin-hung Jeffrey, Executive Committee (Central) Chairperson.
Lap Man told the media: "I encouraged my colleagues and their families to take part in the run as a demonstration of our community spirit in action – raising funds for a good cause. This event is an important part of our corporate social responsibility programme for the year and will help us mobilise resources for local children in need. DYXnet Group is a people-orientated company, driven by core charity values of collaboration, engagement and connectivity with the community. In fact, we will ramp up DYXnet Group's charitable activities in 2018 by channeling even more of our time, talent and resources into worthy causes."
Winners carried off trophies, while each and every runner received a special pack of goodies containing a Christmas bag gift, Santa Claus suit and assorted items. Other attractions at the event were booths and games providing carnival-style enjoyment for young and old alike and included DYXnet Group's mini-puzzle challenge.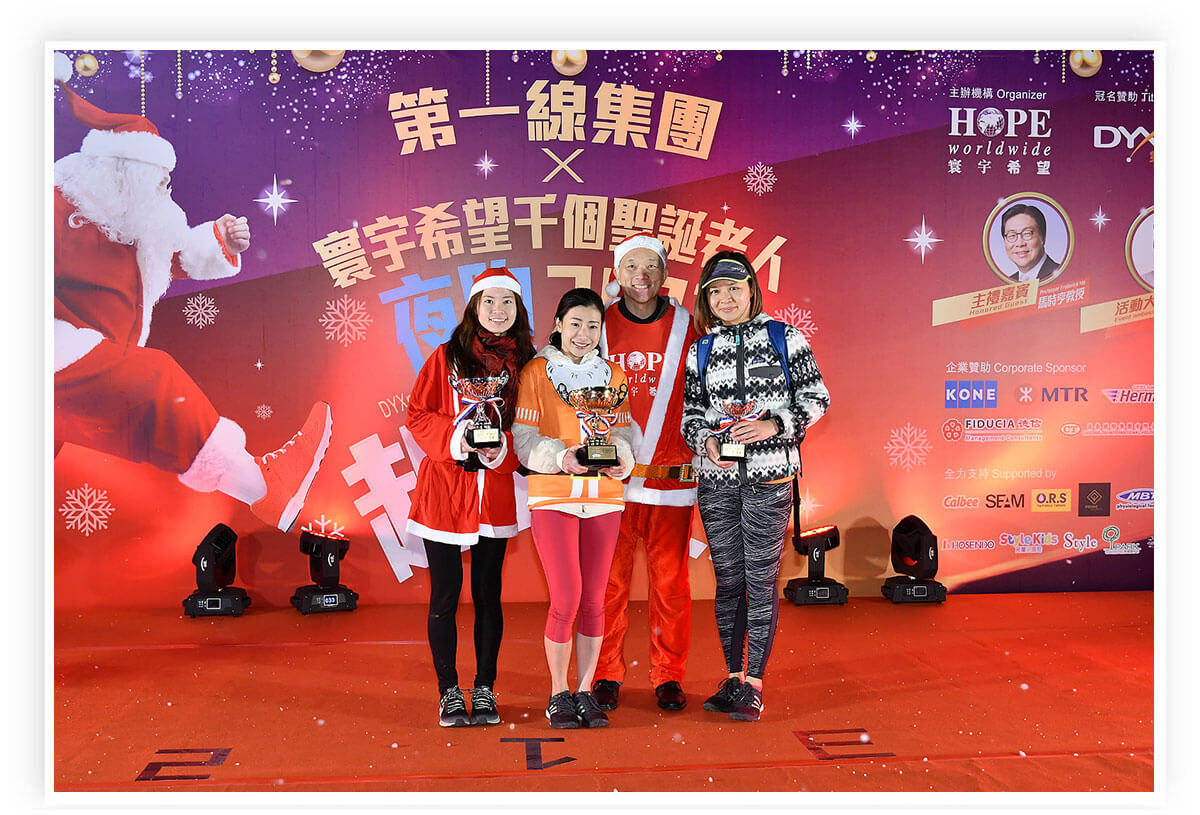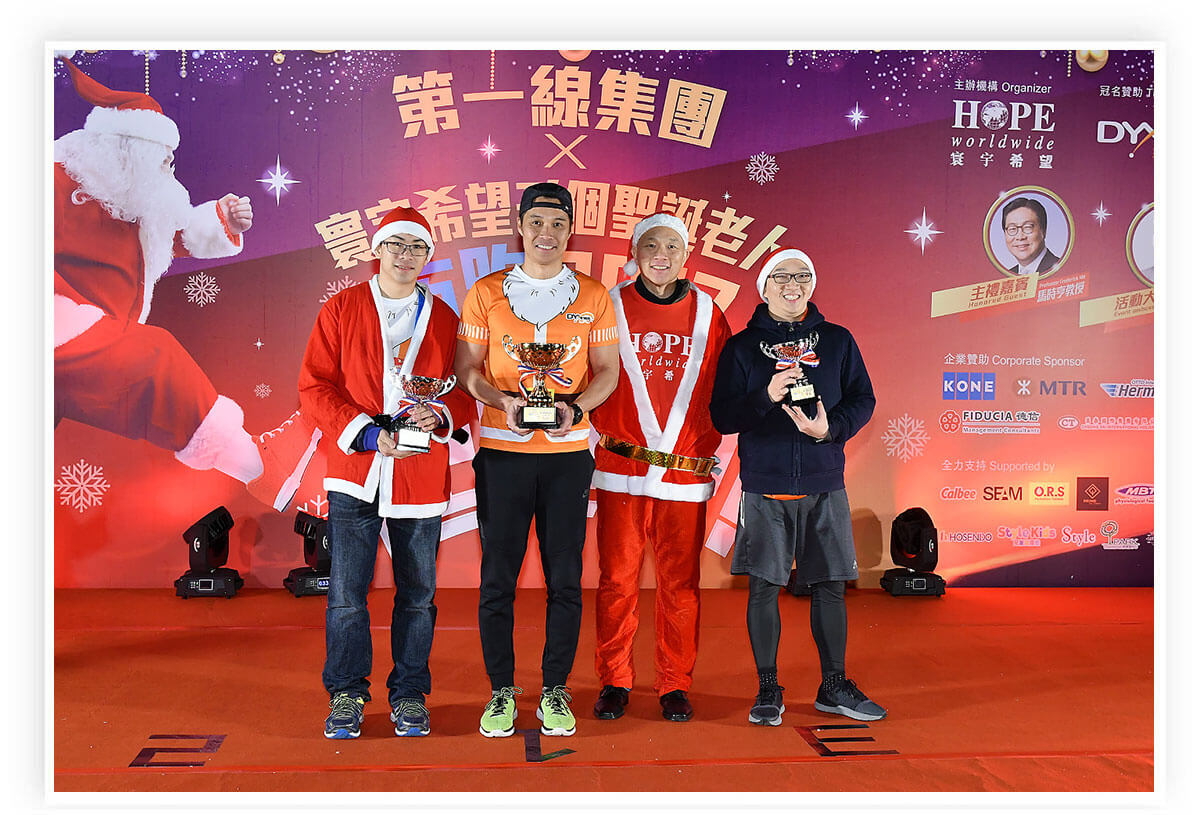 Individual 8km DYXnet Group Charity Cup winners, as well as first and second runners up (male and female), display their trophies onstage.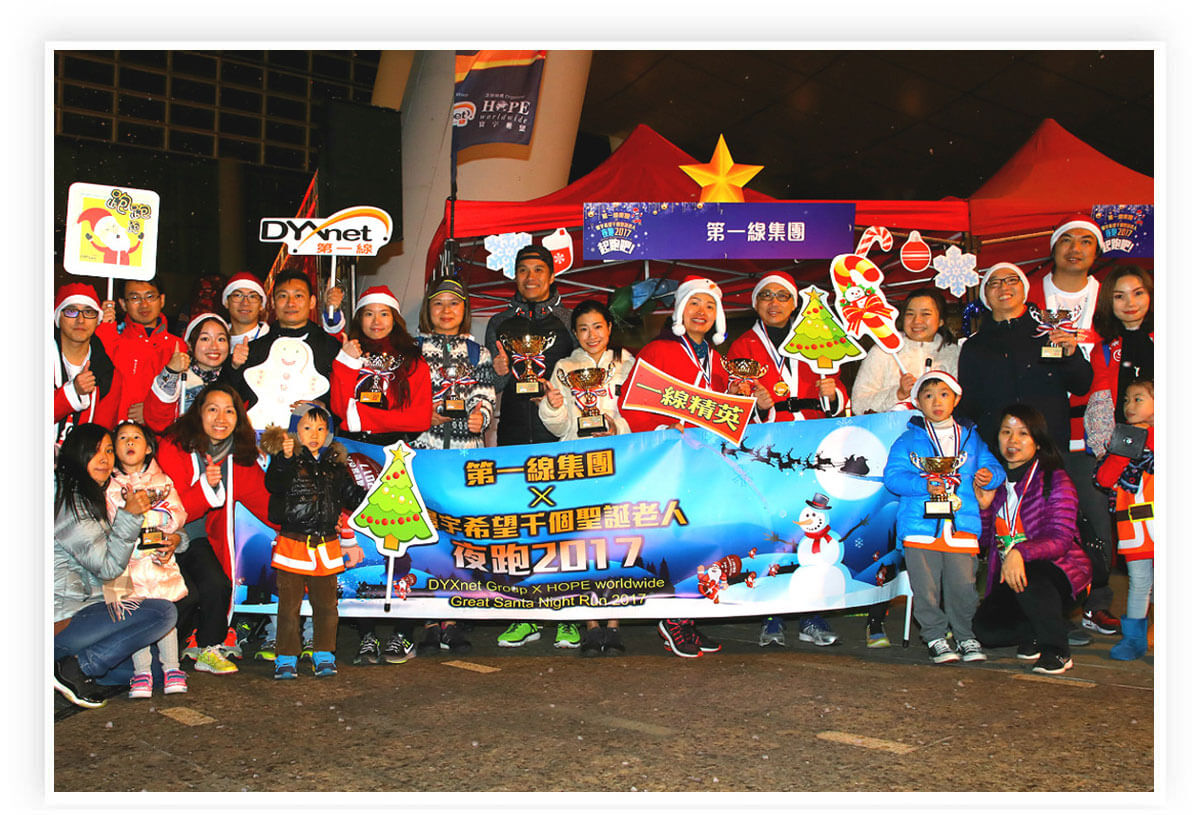 All the DYXnet Group winners plus runners and families gather at DYXnet Group's booth for a photo.
HOPE worldwide was founded in 1991 as an international Christian charity that brings people together to deliver sustainable and high-impact education and health services to the underprivileged. And its Great Santa Run has been staged in Hong Kong every Christmas since 2014.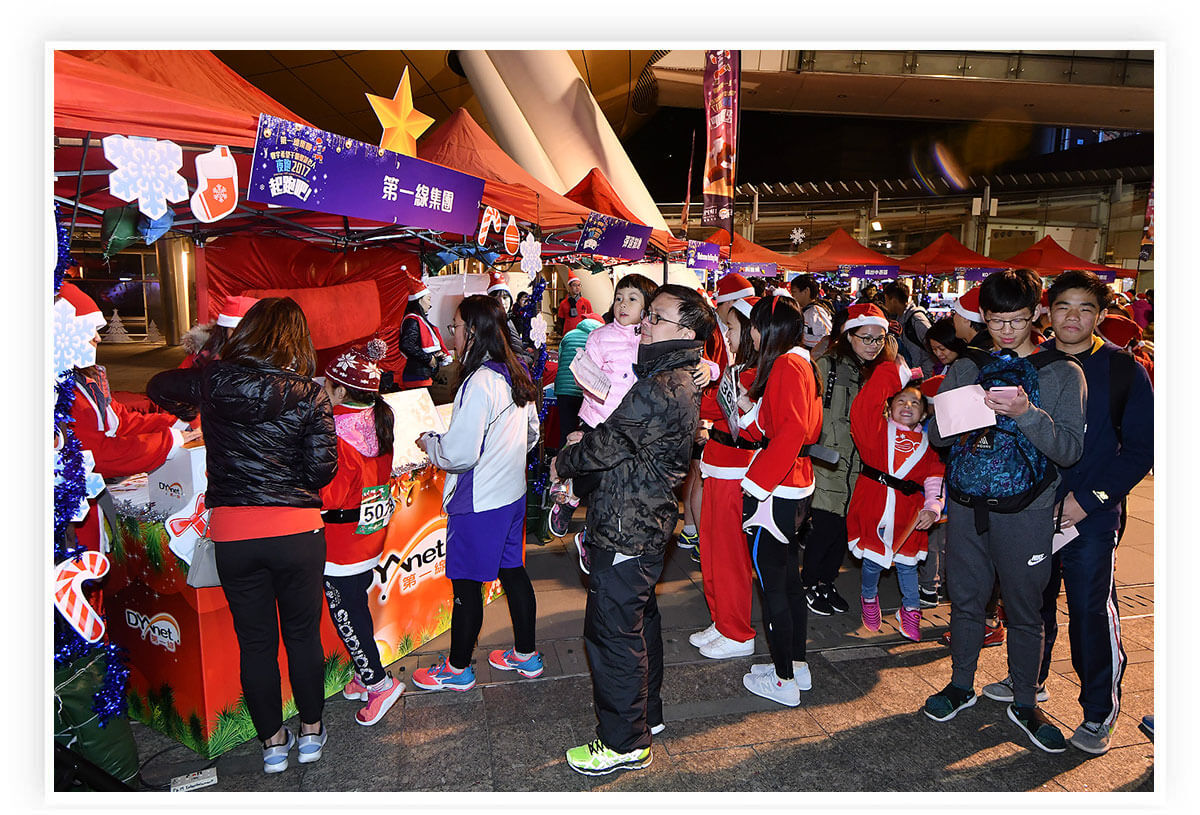 DYXnet Group's booth proved popular at the event.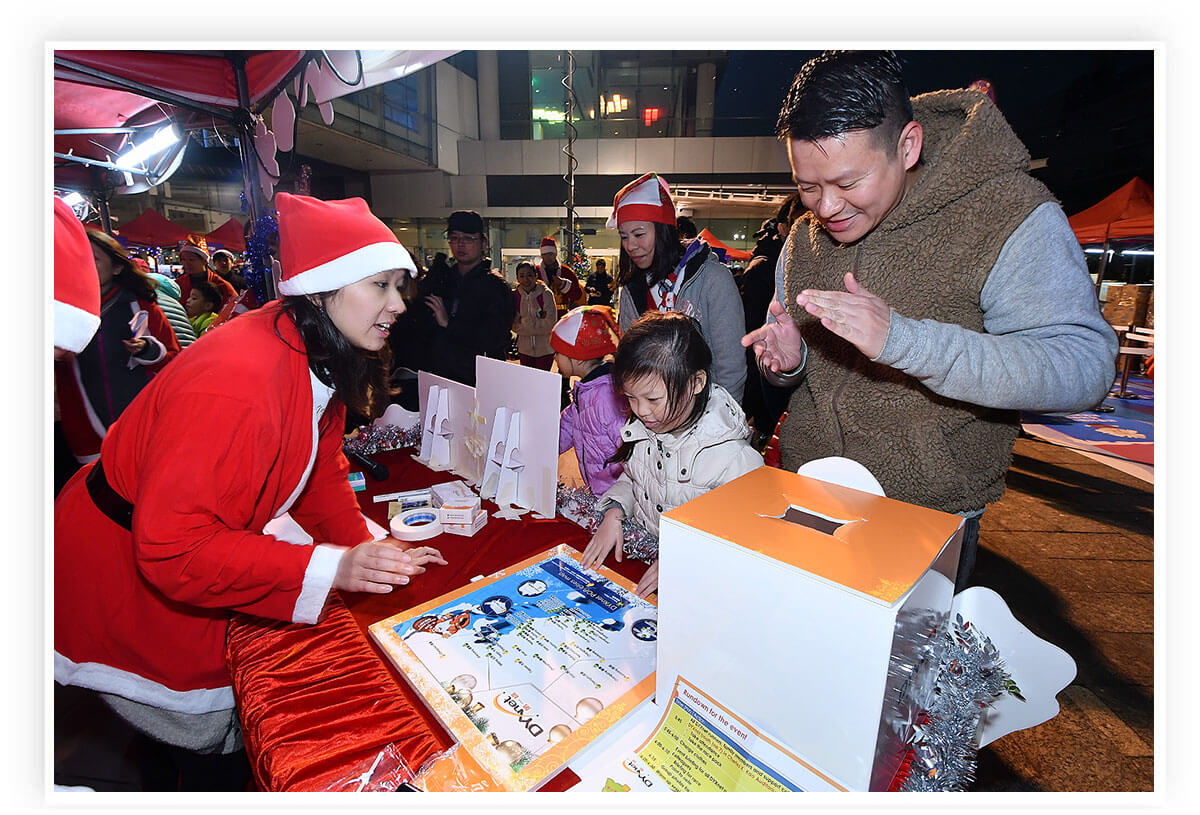 Children and adults alike were attracted to our mini-puzzle challenge and the prospect of winning souvenirs.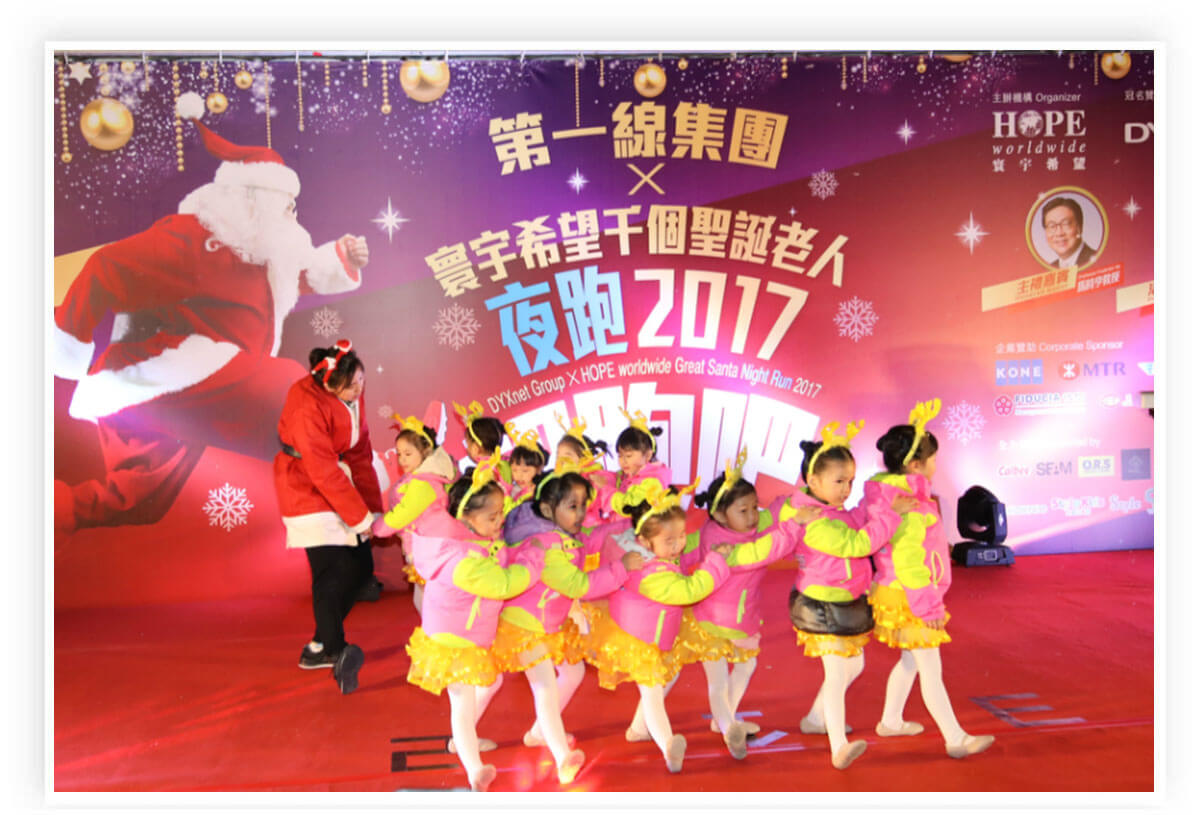 A tots ballet performance charmed the audience.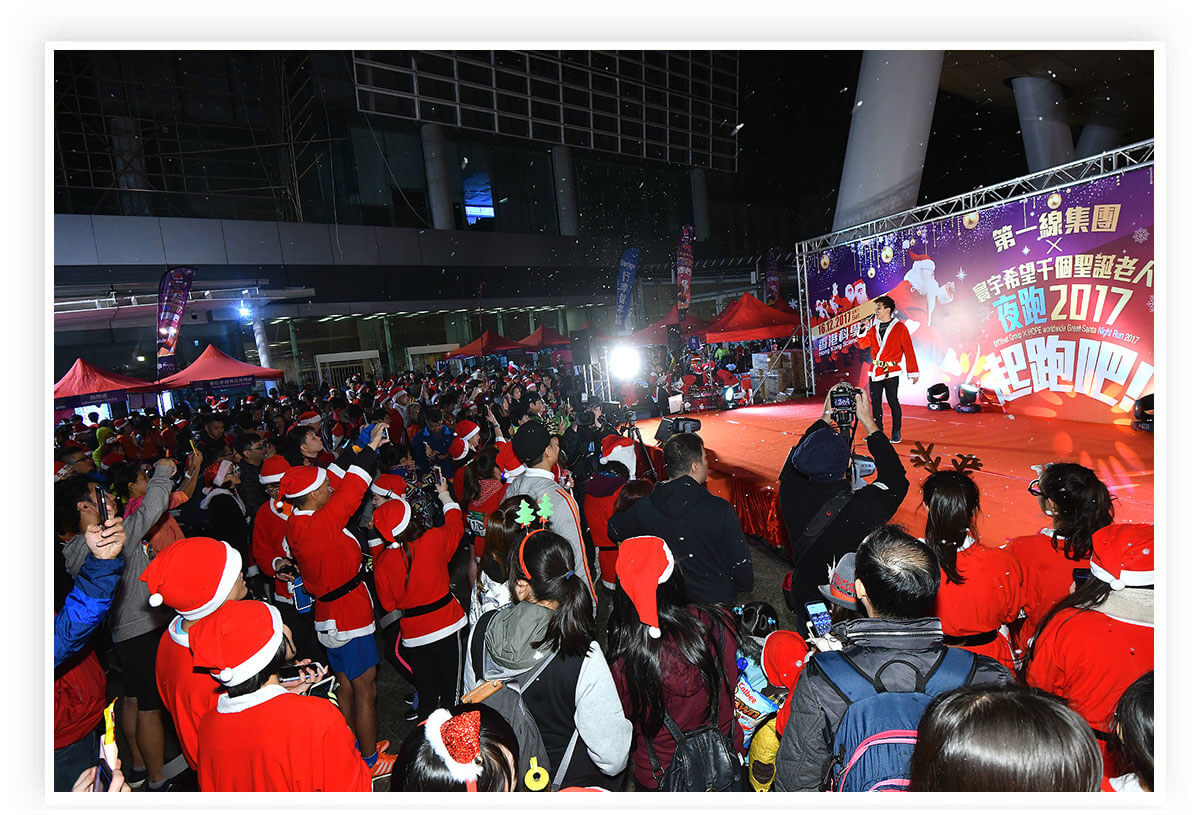 Phil Lam took centre-stage to belt out a song and get everyone in party mood.